Argentina will face UAE in the World Cup Warm-up matches today, 16th November 2022. Although the upcoming game between Argentina and the United Arab Emirates will be of little consequence, it could serve as a good ego boost for each team before they begin their World Cup journey. By winning this game, Argentina can enter the World Cup with a positive mindset. On the other hand, UAE will not be participating in Qatar World Cup due to their results.
The friendly match on Wednesday evening was nothing more than a way to boost the United Arab Emirates' confidence after failing to book a spot in the upcoming World Cup. They also lost their last three games, which they would love to end on Wednesday. 
Although, the task ahead of them will take a lot of work. Argentina is a favorite to win the World Cup this year. Their remarkable skills and recent success have made them one of the tournament's top contenders. They haven't lost since 2019 after their defeat against Brazil and are looking better than ever going into the cup.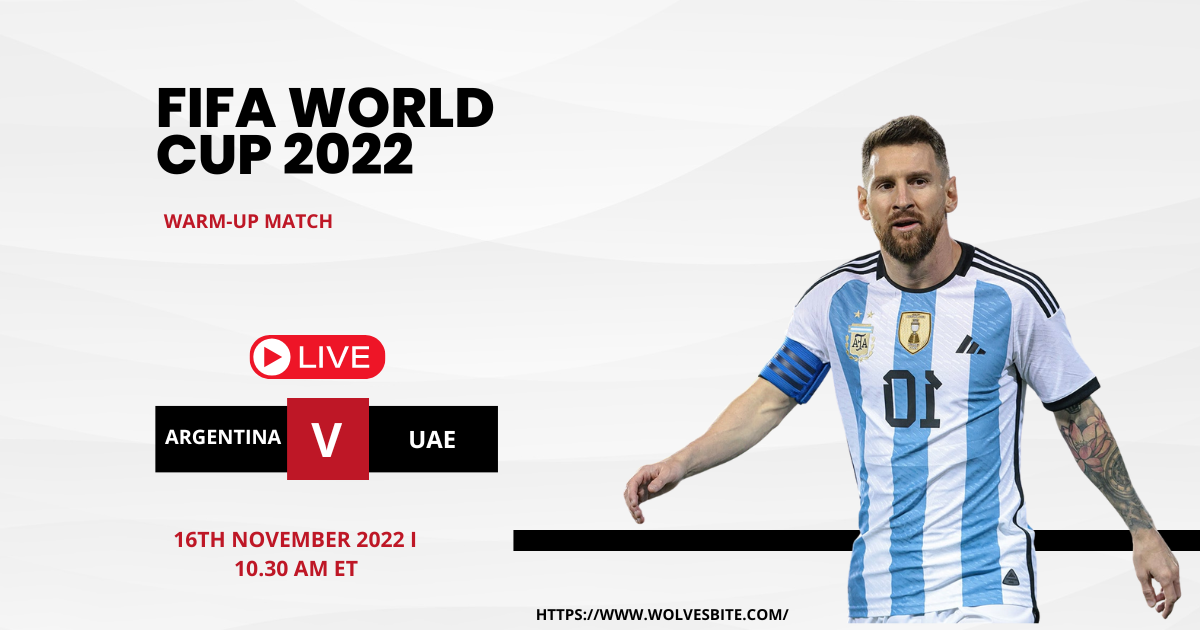 | | |
| --- | --- |
| Event | Argentina vs UAE |
| Time | 10:30am ET |
| Date | 16th November 2022 |
| Venue | Mohammed Bin Zayed Stadium, Abu Dhabi |
| Live Stream | fuboTV, TUDN website/App |
Where To Watch Online?
Argentina vs UAE game will be streamed on limited platforms. fuboTV, and TUDN website/App are the official streaming channels for the game.
Team Squad Of Both The Team
The probable squad anticipated by our experts are:
Argentina
Martinez; Molina, Otamendi, L Martinez, Acuna; Rodriguez, Paredes, Fernandez; Dybala, L Martinez, Di Maria.
UAE
Amer Abdulrahman, Ismail Ahmed Mattar, Khamis Esmaeel Al Junaibi, Bandar,Khasif; Al-Hashemi, Al Hammadi, Al-Ahbabi, Ibrahim; Salmeen, Rashid, Hamad, Ramadan; Canedo, Al-Maazmi.
Preview
Coach Arruabarrena of the UAE team plans to give multiple players game time tonight, with Caio Canedo anticipating starting. As Lionel Messi just joined the squad recently, he will likely take a place on the bench. The attack could be made up of Paulo Dybala together with Angel Di Maria and Lautaro Martinez.
Argentina is in the same group as Saudi Arabia, Poland, and Mexico. While they have a good chance of making it to the round of 16, they shouldn't become overconfident because bigger surprises have been seen at past World Cups.
The UAE team was just inches away from being able to play in the playoffs, but with new additions to the team for the next World Cup, they are hopeful they will have another chance in 2026.