Host nation Qatar will play Ecuador in the FIFA World Cup tournament opener on November 21 at Al Bayt Stadium in Al Khor, before facing African winners Senegal & the Oranje in Group A.
England was placed in Group B alongside the United States, Iran, and the winner of the European Play-offs – either Wales, Ukraine, or Scotland.
Meanwhile, France was placed in Group D alongside Tunisia, Denmark, & the winners of the Intercontinental play-off 1 which will be either Australia, Peru, or the UAE. Brazil, the five-time champion and world number one, will compete in Group G against Cameroon, Switzerland, and Serbia. Argentina, led by Lionel Messi, will play in Group C alongside Mexico, Saudi Arabia and Poland, whereas the Portugal team will be in Group H along with Uruguay, Ghana and South Korea.
The runners-up in 2018 Belgium and Croatia were placed in Group F with Canada and Morocco, who have qualified for their first World Cup since 1986. The whole programme is as follows: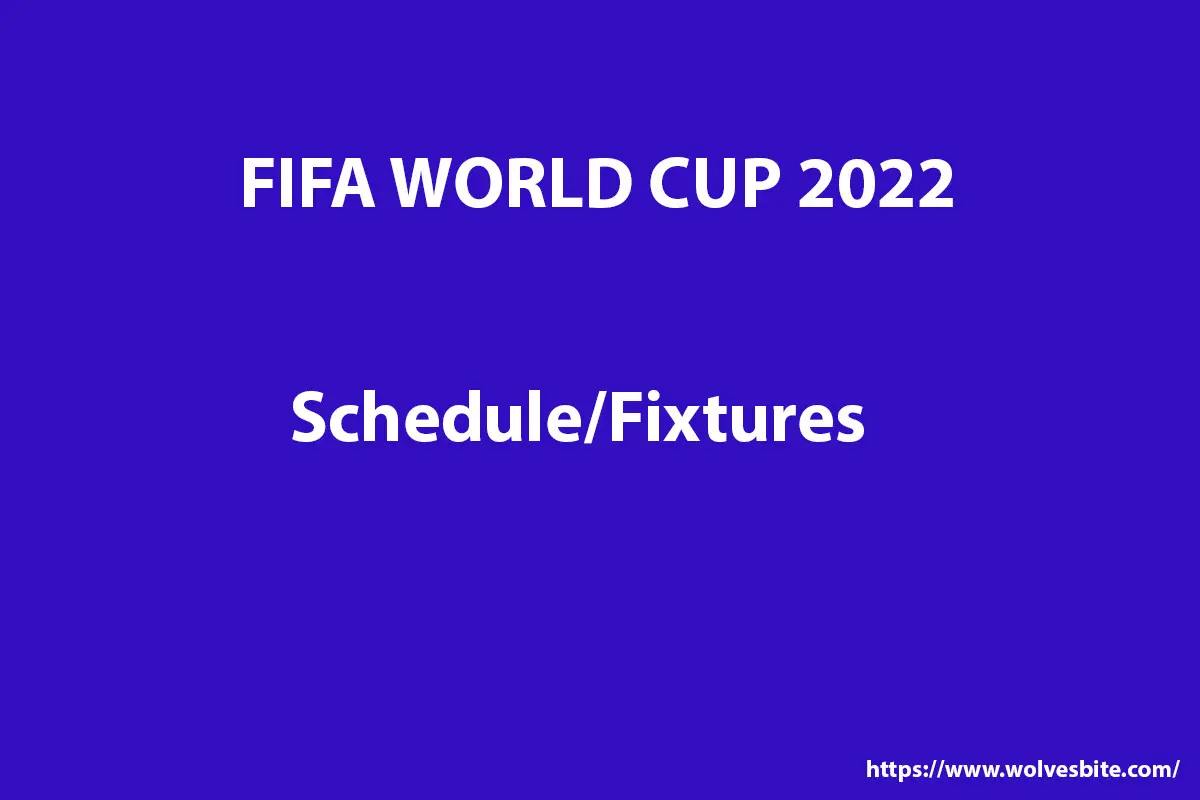 FIFA World Cup 2022 Full Schedule/Fixtures
Senegal will face the Netherlands in the opening game of FIFA World Cup 2022. Let's have a look at the FIFA World Cup Schedule for 2022 Qatar below.
All times are according to local timings.
Date
Team 1
Match
Team 2
Group
Time*
Location

21-Nov-22

Qatar

1

Ecuador

A

7:00 PM

Al Bayt Stadium

21-Nov-22

Senegal

2

Netherlands

A

1:00 PM

Al Thumama Stadium

21-Nov-22

England

3

Iran

B

4:00 PM

Khalifa International Stadium

21-Nov-22

USA

4

Wales/Scotland/Ukraine

B

10:00 PM

Ahmad Bin Ali Stadium

22-Nov-22

France

5

Peru/Australia/UAE

D

10:00 PM

Al Janoub Stadium

22-Nov-22

Denmark

6

Tunisia

D

4:00 PM

Education City Stadium

22-Nov-22

Mexico

7

Poland

C

7:00 PM

Stadium 974

22-Nov-22

Argentina

8

Saudi Arabia

C

1:00 PM

Lusail Stadium

23-Nov-22

Belgium

9

Canada

F

10:00 PM

Ahmad Bin Ali Stadium

23-Nov-22

Spain

10

Costa Rica/New Zealand

E

7:00 PM

Al Thumama Stadium

23-Nov-22

Germany

11

Japan

E

4:00 PM

Khalifa International Stadium

23-Nov-22

Morocco

12

Croatia

F

1:00 PM

Al Bayt Stadium

24-Nov-22

Switzerland

13

Cameroon

G

1:00 PM

Al Janoub Stadium

24-Nov-22

Uruguay

14

South Korea

H

4:00 PM

Education City Stadium

24-Nov-22

Portugal

15

Ghana

H

7:00 PM

Stadium 974

24-Nov-22

Brazil

16

Serbia

G

10:00 PM

Lusail Stadium

25-Nov-22

Iran

17

Wales/Scotland/Ukraine

B

1:00 PM

Ahmad Bin Ali Stadium

25-Nov-22

Qatar

18

Senegal

A

4:00 PM

Al Thumama Stadium

25-Nov-22

Netherlands

19

Ecuador

A

7:00 PM

Khalifa International Stadium

25-Nov-22

England

20

USA

B

10:00 PM

Al Bayt Stadium

26-Nov-22

Tunisia

21

Peru/Australia/UAE

D

1:00 PM

Al Janoub Stadium

26-Nov-22

Poland

22

Saudi Arabia

C

4:00 PM

Education City Stadium

26-Nov-22

France

23

Denmark

D

7:00 PM

Stadium 974

26-Nov-22

Argentina

24

Mexico

C

10:00 PM

Lusail Stadium

27-Nov-22

Japan

25

Costa Rica/New Zealand

E

1:00 PM

Ahmad Bin Ali Stadium

27-Nov-22

Belgium

26

Morocco

F

4:00 PM

Al Thumama Stadium

27-Nov-22

Croatia

27

Canada

F

7:00 PM

Khalifa International Stadium

27-Nov-22

Spain

28

Germany

E

10:00 PM

Al Bayt Stadium

28-Nov-22

Serbia

29

Cameroon

G

1:00 PM

Al Janoub Stadium

28-Nov-22

South Korea

30

Ghana

H

4:00 PM

Education City Stadium

28-Nov-22

Brazil

31

Switzerland

G

7:00 PM

Stadium 974

28-Nov-22

Portugal

32

Uruguay

H

10:00 PM

Lusail Stadium

29-Nov-22

England

33

Wales/Scotland/Ukraine

B

10:00 PM

Ahmad Bin Ali Stadium

29-Nov-22

Iran

34

USA

B

10:00 PM

Al Thumama Stadium

29-Nov-22

Ecuador

35

Senegal

A

6:00 PM

Khalifa International Stadium

29-Nov-22

Netherlands

36

Qatar

A

6:00 PM

Al Bayt Stadium

30-Nov-22

Denmark

37

Peru/Australia/UAE

D

6:00 PM

Al Janoub Stadium

30-Nov-22

Tunisia

38

France

D

6:00 PM

Education City Stadium

30-Nov-22

Poland

39

Argentina

C

10:00 PM

Stadium 974

30-Nov-22

Saudi Arabia

40

Mexico

C

10:00 PM

Lusail Stadium

1-Dec-22

Croatia

41

Belgium

F

6:00 PM

Ahmad Bin Ali Stadium

1-Dec-22

Canada

42

Morocco

F

6:00 PM

Al Thumama Stadium

1-Dec-22

Japan

43

Spain

E

10:00 PM

Khalifa International Stadium

1-Dec-22

Costa Rica/New Zealand

44

Germany

E

10:00 PM

Al Bayt Stadium

2-Dec-22

Ghana

45

Uruguay

H

6:00 PM

Al Janoub Stadium

2-Dec-22

South Korea

46

Portugal

H

6:00 PM

Education City Stadium

2-Dec-22

Serbia

47

Switzerland

G

10:00 PM

Stadium 974

2-Dec-22

Brazil

48

Cameroon

G

10:00 PM

Lusail Stadium

Round of 16

3-Dec-22

1A

49

2B

6:00 PM

Khalifa International Stadium

3-Dec-22

1C

50

2D

10:00 PM

Ahmad Bin Ali Stadium

4-Dec-22

1B

51

2A

10:00 PM

Al Bayt Stadium

4-Dec-22

1D

52

2C

6:00 PM

Al Thumama Stadium

5-Dec-22

1E

53

2F

6:00 PM

Al Janoub Stadium

5-Dec-22

1G

54

2H

10:00 PM

Stadium 974

6-Dec-22

1F

55

2E

6:00 PM

Education City Stadium

6-Dec-22

1H

56

2G

10:00 PM

Lusail Stadium

Quarterfinals

9-Dec-22

W49

57

W50

10:00 PM

Lusail Stadium

9-Dec-22

W53

58

W54

6:00 PM

Education City Stadium

10-Dec-22

W51

59

W52

10:00 PM

Al Bayt Stadium

10-Dec-22

W55

60

W56

6:00 PM

Al Thumama Stadium

Semi-Finals

13-Dec-22

W57

61

W58

10:00 PM

Lusail Stadium

14-Dec-22

W59

62

W60

10:00 PM

Al Bayt Stadium

Finals

17-Dec-22

L61

63

L62

6:00 PM

Khalifa International Stadium

18-Dec-22

W61

64

W62

6:00 PM

Lusail Stadium