Host nation Qatar will play Ecuador in the FIFA World Cup tournament opener on November 21 at Al Bayt Stadium in Al Khor, before facing African winners Senegal & the Oranje in Group A.
England was placed in Group B alongside the United States, Iran, and the winner of the European Play-offs – either Wales, Ukraine, or Scotland.
Meanwhile, France was placed in Group D alongside Tunisia, Denmark, & the winners of the Intercontinental play-off 1, which will be either Australia, Peru, or the UAE. Brazil, the five-time champion and world number one, will compete in Group G against Cameroon, Switzerland, and Serbia. Argentina, led by Lionel Messi, will play in Group C alongside Mexico, Saudi Arabia and Poland, whereas the Portugal team will be in Group H along with Uruguay, Ghana and South Korea.
The runners-up in 2018 Belgium and Croatia were placed in Group F with Canada and Morocco, who have qualified for their first World Cup since 1986. The whole programme is as follows: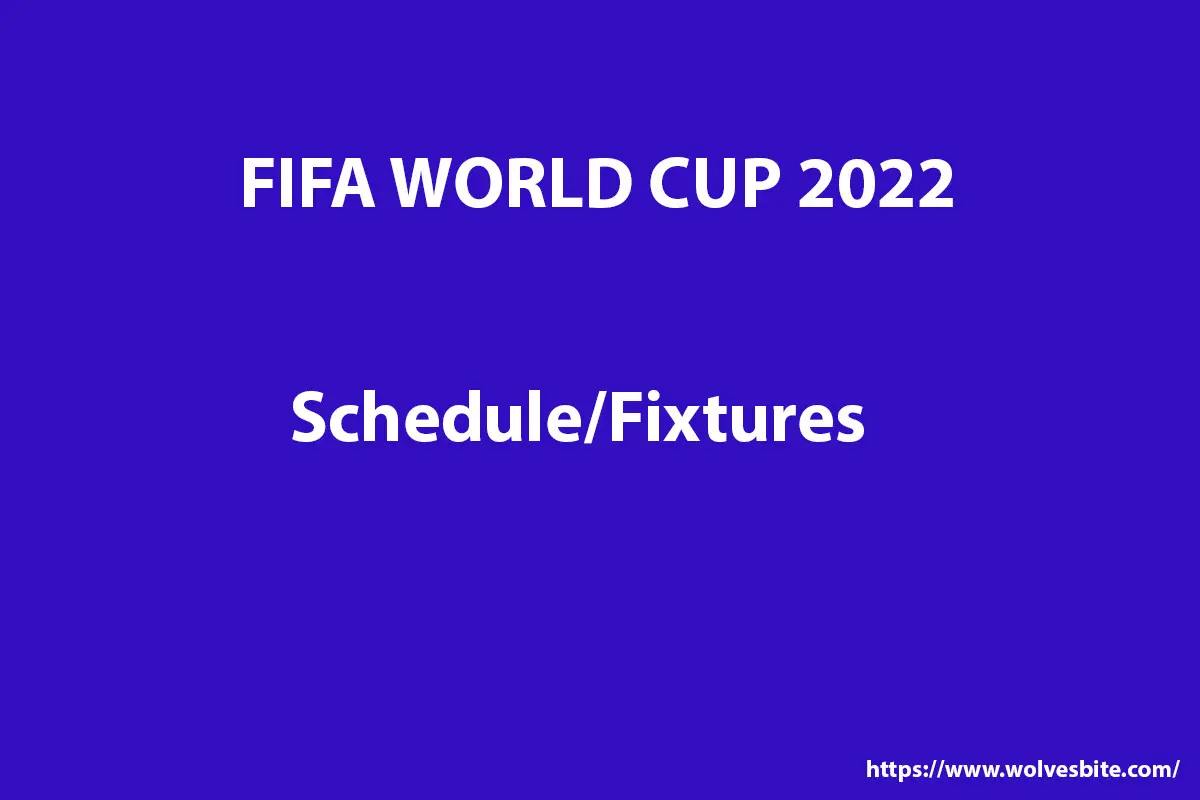 FIFA World Cup 2022 Full Schedule/Fixtures
The FIFA World Cup 2022 schedule has been released, and fans are already excited for the games. The tournament will start on November 20th and end on December 18th. There are 32 teams competing in the tournament, and they have been divided into eight groups.
The group stage will start on November 20th and end on 2nd December 2022. The knockout stage will start on December 3rd and end on December 17th. The final will be played on December 18th at the Khalifa International Stadium in Doha, Qatar.
Senegal will face the Netherlands in the opening game of FIFA World Cup 2022. Let's have a look at the FIFA World Cup Schedule for 2022 Qatar below.
Update: FIFA made some few changes in the first day schedule. Opening Ceremony followed by Qatar vs Ecuador game is confirmed on 20th November 2022.
All times are according to local timings.
Date
Team 1
Match
Team 2
Group
Time*
Location

20-Nov-22

Qatar

1

Ecuador

A

7:00 PM

Al Bayt Stadium

21-Nov-22

Senegal

2

Netherlands

A

7:00 PM

Al Thumama Stadium

21-Nov-22

England

3

Iran

B

4:00 PM

Khalifa International Stadium

21-Nov-22

USA

4

Wales

B

10:00 PM

Ahmad Bin Ali Stadium

22-Nov-22

France

5

Australia

D

10:00 PM

Al Janoub Stadium

22-Nov-22

Denmark

6

Tunisia

D

4:00 PM

Education City Stadium

22-Nov-22

Mexico

7

Poland

C

7:00 PM

Stadium 974

22-Nov-22

Argentina

8

Saudi Arabia

C

1:00 PM

Lusail Stadium

23-Nov-22

Belgium

9

Canada

F

10:00 PM

Ahmad Bin Ali Stadium

23-Nov-22

Spain

10

Costa Rica

E

7:00 PM

Al Thumama Stadium

23-Nov-22

Germany

11

Japan

E

4:00 PM

Khalifa International Stadium

23-Nov-22

Morocco

12

Croatia

F

1:00 PM

Al Bayt Stadium

24-Nov-22

Switzerland

13

Cameroon

G

1:00 PM

Al Janoub Stadium

24-Nov-22

Uruguay

14

South Korea

H

4:00 PM

Education City Stadium

24-Nov-22

Portugal

15

Ghana

H

7:00 PM

Stadium 974

24-Nov-22

Brazil

16

Serbia

G

10:00 PM

Lusail Stadium

25-Nov-22

Iran

17

Wales

B

1:00 PM

Ahmad Bin Ali Stadium

25-Nov-22

Qatar

18

Senegal

A

4:00 PM

Al Thumama Stadium

25-Nov-22

Netherlands

19

Ecuador

A

7:00 PM

Khalifa International Stadium

25-Nov-22

England

20

USA

B

10:00 PM

Al Bayt Stadium

26-Nov-22

Tunisia

21

Australia

D

1:00 PM

Al Janoub Stadium

26-Nov-22

Poland

22

Saudi Arabia

C

4:00 PM

Education City Stadium

26-Nov-22

France

23

Denmark

D

7:00 PM

Stadium 974

26-Nov-22

Argentina

24

Mexico

C

10:00 PM

Lusail Stadium

27-Nov-22

Japan

25

Costa Rica

E

1:00 PM

Ahmad Bin Ali Stadium

27-Nov-22

Belgium

26

Morocco

F

4:00 PM

Al Thumama Stadium

27-Nov-22

Croatia

27

Canada

F

7:00 PM

Khalifa International Stadium

27-Nov-22

Spain

28

Germany

E

10:00 PM

Al Bayt Stadium

28-Nov-22

Serbia

29

Cameroon

G

1:00 PM

Al Janoub Stadium

28-Nov-22

South Korea

30

Ghana

H

4:00 PM

Education City Stadium

28-Nov-22

Brazil

31

Switzerland

G

7:00 PM

Stadium 974

28-Nov-22

Portugal

32

Uruguay

H

10:00 PM

Lusail Stadium

29-Nov-22

England

33

Wales

B

10:00 PM

Ahmad Bin Ali Stadium

29-Nov-22

Iran

34

USA

B

10:00 PM

Al Thumama Stadium

29-Nov-22

Ecuador

35

Senegal

A

6:00 PM

Khalifa International Stadium

29-Nov-22

Netherlands

36

Qatar

A

6:00 PM

Al Bayt Stadium

30-Nov-22

Denmark

37

Australia

D

6:00 PM

Al Janoub Stadium

30-Nov-22

Tunisia

38

France

D

6:00 PM

Education City Stadium

30-Nov-22

Poland

39

Argentina

C

10:00 PM

Stadium 974

30-Nov-22

Saudi Arabia

40

Mexico

C

10:00 PM

Lusail Stadium

1-Dec-22

Croatia

41

Belgium

F

6:00 PM

Ahmad Bin Ali Stadium

1-Dec-22

Canada

42

Morocco

F

6:00 PM

Al Thumama Stadium

1-Dec-22

Japan

43

Spain

E

10:00 PM

Khalifa International Stadium

1-Dec-22

Costa Rica/New Zealand

44

Germany

E

10:00 PM

Al Bayt Stadium

2-Dec-22

Ghana

45

Uruguay

H

6:00 PM

Al Janoub Stadium

2-Dec-22

South Korea

46

Portugal

H

6:00 PM

Education City Stadium

2-Dec-22

Serbia

47

Switzerland

G

10:00 PM

Stadium 974

2-Dec-22

Brazil

48

Cameroon

G

10:00 PM

Lusail Stadium

Round of 16

3-Dec-22

1A

49

2B

6:00 PM

Khalifa International Stadium

3-Dec-22

1C

50

2D

10:00 PM

Ahmad Bin Ali Stadium

4-Dec-22

1B

51

2A

10:00 PM

Al Bayt Stadium

4-Dec-22

1D

52

2C

6:00 PM

Al Thumama Stadium

5-Dec-22

1E

53

2F

6:00 PM

Al Janoub Stadium

5-Dec-22

1G

54

2H

10:00 PM

Stadium 974

6-Dec-22

1F

55

2E

6:00 PM

Education City Stadium

6-Dec-22

1H

56

2G

10:00 PM

Lusail Stadium

Quarterfinals

9-Dec-22

W49

57

W50

10:00 PM

Lusail Stadium

9-Dec-22

W53

58

W54

6:00 PM

Education City Stadium

10-Dec-22

W51

59

W52

10:00 PM

Al Bayt Stadium

10-Dec-22

W55

60

W56

6:00 PM

Al Thumama Stadium

Semi-Finals

13-Dec-22

W57

61

W58

10:00 PM

Lusail Stadium

14-Dec-22

W59

62

W60

10:00 PM

Al Bayt Stadium

Finals

17-Dec-22

L61

63

L62

6:00 PM

Khalifa International Stadium

18-Dec-22

W61

64

W62

6:00 PM

Lusail Stadium